9 Great Gifts for Horror Fans & Halloween Lovers
Horror film season is upon us. Chances are, you've seen the likes of Freddy Krueger, Jason and maybe even Chuckie gracing your screen. And if you can't get enough of the blood, guts and gore, we've got some really cool gifts for horror fans. From bloody bath mats to zombie gnomes, get ready to scream … in delight and horror.
One of our absolute favorite gifts if this dripping blood shaped cutting board. You'll love using this when you're chopping vegetables or when you're trying to scare your kids. Either way, it's just the right mix of horror and practicality.

Mustard Splash Chopping Board $16.95
Ditch those boring old man lawn gnomes or pink flamingos and trade them for this zombie gnome. You'll love how unique these are. And come Halloween, everyone will want to be at your house.
Zombie Gnome $27.95
Pun enthusiasts and fans of Hitchcock's Pyscho will appreciate this blood stained shower curtain with the blood stained hands on it. Owning this is like owning a piece of movie history that's in your house. Sounds pretty good to us
Blood Bath Shower Curtain $16.95
Make your shower or bathtub more fun with this blood stained mat. Pull it out when it's Halloween or keep it out year round if you like your room décor to be, well, more interesting than a plain white rug. Your guests will think it's scary, until they think it's funny.
I think we can all agree that square sticky notes are just so boring. But this notepad is anything but boring. Shaped like a body that's been stabbed with a pen, you're sure to get some interesting reactions from this murder ink notepad. Or you'll just ensure that no one forgets your notes ever again.
Murder, Ink Pad & Pen Set $9.95
These idle hands salad servers are sure to delight at your next dinner party. Use them to toss up your ghoulishly delightful salads, but be sure to lock these up when they're not in use, we all know who loves idle hands… don't we?
Idle Hands Salad Servers $6.95
If you're searching for a way to dress up the photos on your fridge without ruining them with a Sharpie, these dress up fridge magnets will do the trick. Use these to give your dog bat wings, have your husband hold a chainsaw or give your wife Morticia Adams' tall beehive hair. Get creative.
Dress Up Fridge Magnets Horror $7.95
Black cats traditionally are symbols of bad luck. But when there's wine involved, could a black cat really be a bad thing? We think not! Use this cat shaped bottle stopper to plug a wine bottle and forget whoever said that those cute cats are bad luck.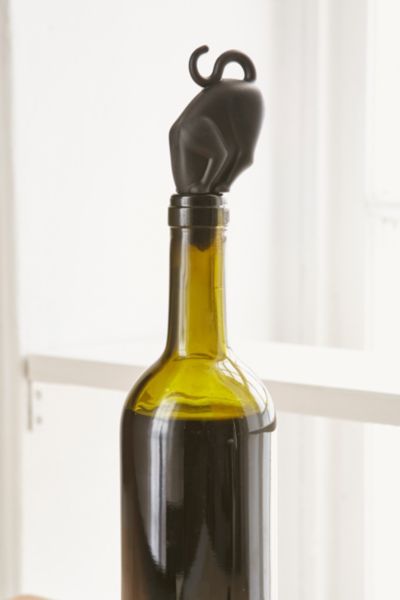 Stop Kitty Bottle Stopper $10.95
We love tea, but what we especially love is this skull-shaped tea infuser. It makes tea look like the edgiest beverage out there. Put tea leaves inside, submerge in hot water and enjoy!
We hope these gifts will make this season of horror that much better. Muhahahah!