St. Patty's Day Party Theme: "Hello, I'm Drunk!"
This year, I vow to celebrate St. Patty's Day like it's meant to be celebrated, with booze, a ridiculous green get-up, and fantastic company. That being said, let the party planning begin!
Drinking accessories
First and foremost with any St. Patrick's Day celebration, there have to be drinks. You need to have the alcohol, but what makes partying for this holiday even more fun are the accessories.
Let us begin with one of the coolest inventions ever made in the history of beerdom, the one and only Beer Buckle. This metal buckle is designed to fold down and offer a small platform for your beer. It has an elastic cord to secure any bottle or can in place, and it's a serious statement piece. With both hands free, you'll be getting high fives from everyone in the room!
Another ingenious drinking apparatus comes to us in the form of Strawz Connectible Drinking Party Puzzle Straws. With this system of straws and connectors, you can construct ludicrously convoluted drinking-straw setups and never get bored of the possibilities. Drink out of multiple glasses or team up with a friend to create some interesting constructions.
Unless you plan on gluing your drink to your hand, grab some Beer Bands.
You may like to party hardy but that doesn't mean you like to share cooties. Beer Bands are a colorful way to mark your drink so you don't ever confuse it with this guy's:
Of course, drinking games are a must when you're having this much fun at a party. Suck UK offers a fun set of Bar Games Beer Mats, which are coasters that feature 30 games for the soon-to-be drunkard.
Check out some popular drinking games specifically for St. Patty's Day. You can learn how to play anything from Shot Potato to Irish Quarters.
St. Patrick's Day gear
If you're going to party, do it right with holiday gear. There's no such thing as going overboard with green. Clip on a wearable pocket plasma to avoid nasty pinches with a cool green flare. If there's a DJ and strobe lights around, you can be part of the light show!
As always, nothing spells out C-O-O-L better than a pair of party stunna shades. These Eyepster St. Patrick's Day sunglasses will make you look like an instant wild child party animal.
Remember that crazy leprechaun debacle in Mobile, Alabama a few years ago? Time to bring sexyleppyback  with a "Who All Seen a Leprechaun" T-shirt. For anyone who might not know what I'm referring to, watch this video clip of the Mobile, Alabama leprechaun to see what started a string of hilarious memes like the one this tee features.
And to round it all out, you've got the usual–green and gold necklaces, hats, glasses, etc. Get your costume accessories at partycity.com or your local 99-cent store.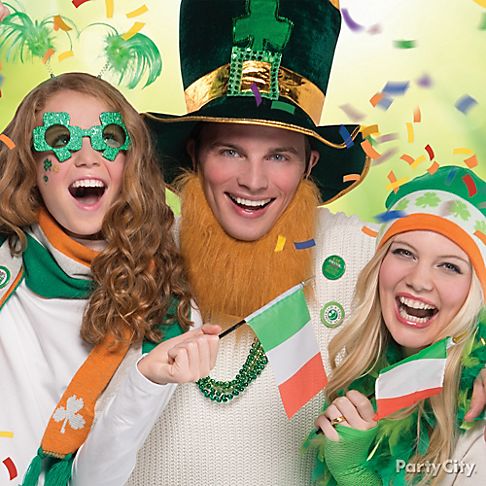 Music and entertainment

Lastly, every good party needs some rockin' music, especially if everyone's going to be drunk off their socks. The World Famous KROQ graciously came up with a list of the Top 10 Irish Rock Bands and their Greatest Hits, so check out the featured bands and turn up the music!
  Another option is to watch The Boondock Saints on a big screen and sip on Jameson Whiskey with cool handgun shaped ice "cubes" in your glass.
Or, you can go for some laughs (and scares) and play Leprechaun, the horror comedy starring Jennifer Aniston from the early 90's. Have the movie on in the background and really get into the holiday spirit!
Whatever you decide, have a blast, be safe, and enjoy your St. Patrick's Day, laddy!