14 Valentine Gifts for Sweethearts and Lovers
Gift guides for all! You never know what you might chance upon for you or your loved ones, so here's a list of some Valentine-themed products to check out for lovers of all shapes and forms.
For the Food Lover and Chef:
Engraved with "Made with Love," to show everyone just how much you infuse all of your culinary masterpieces with care and passion. This heart-shaped wooden spoon is made of bamboo to last as long as your love.
Here's a sweet spatula with a stainless steel handle, personal engraving, and a heart-shaped silicone lifting surface that's a match made in heaven for flipping flapjacks, frying an egg, or moving freshly baked cookies off a baking sheet. Just the right thing for whipping up the best treats, with love.
Not just any ordinary cutting board, this one's got the look of love! This durable cutting board is fantastic for food prep. Its cute heart shape also makes it the perfect serving platter for romantic meals or family gatherings.
These adorable heart-shaped measuring spoons make baking even sweeter than it usually is. Who knew that was possible!
A tongue-in-cheek plastic knife block/holder with five knives for the cook (hey, we said "food lover," not necessarily people lover).
For the Jewelry Lover: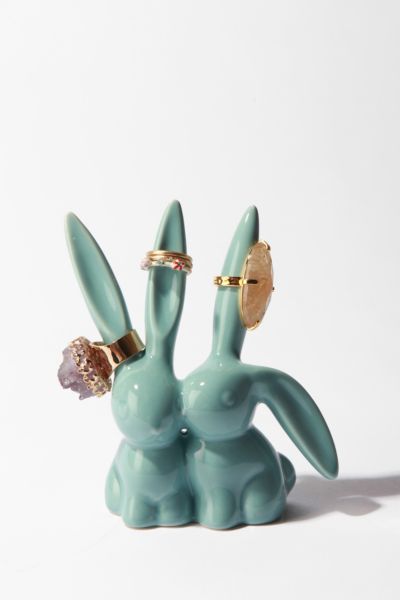 "The only thing these bunnies love more than each other is holding your rings!" Aw, how sweet!
A great gift for anyone who likes jewels and crystals. This rainbow maker uses solar power to slowly rotate a genuine Swarovski crystal to create a dotted display of rainbows across the room.
Add a perfect replica of the classic Valentine candy to your significant other's silver collection. Say "I Love You" with a sterling silver heart that's sweeter than candy!
For the Drink Lover:
Special details make all the difference. Made of alloy metal and aluminum with chrome plating, this wine stopper does its job with extra flair.
Instead of carrying your heart on your sleeve, carry it on your keychain. This heart bottle opener is made of stainless steel and it's perfect for any drink, any time.
The key to a tea lover's heart is the Tea to My Heart Tea Infuser, made with silicone material that's gentle on your mugs. The arrow makes for a convenient handle, and the hear container allows just the right amount of tea to get soaked.
Add your favorite hot beverage to see the red pixel heart appear on this porcelain mug. When the mug cools down, the image disappears. Like love, it works in mysterious ways!
For the Stuffed Animal Lover:
Whether you know him or not, Domo's here to squeeze and cuddle. Who could say no to this cutie-pie!
Super-soft, super huggable, this is a giant plushy heart that you just have to have in your arms.
Hope you all find that perfect Valentine gift. Happy Valentine's Day!