Decluttering Your Life: Organizers for Gadgets and Cables
Start your year off by making life more organized. Studies, like one by psychologist Sherrie Bourg Carter, have shown that clutter can cause unnecessary stress, and I'm sure we'd all appreciate having less of that in our lives. Eliminating the sight of unruly cables at home or in your office is one way you can start your crusade on becoming more organized.  Here's how:
DIY (Do-It-Yourself) Organizers
Toilet Roll Cord Holder – One of the most inexpensive ways you can organize cords and cables is by gathering up toilet paper rolls, scissors, tape, and small pieces of wrapping paper. Just tape the decorative paper onto your toilet roll and presto! you get an attractive, cheap, and recycled solution to tangled cords.
Cardboard Roll Organizer – Take your toilet roll cord holder to the next level by placing several individual rolls in a shoe box to create a slot organizer. Store unused cables here so you always know where to look for that extra extension cord.
Binder Clips Organizer – Simple materials around the office, like binder clips, can be used to separate cables at your desk or table. Give this creative idea a try sometime; all you need to do is clip a few binders on the edge of a table or desk and rest your cables and cords through them like this image shows. 
Charging Post – This DIY charging station charges up to four cell phones, iPods, MP3 players or other electronics, while providing an organizer for bills and other mail. See the needed materials and step-by-step instructions at Lowe's Projects page.
Bread Box Charging Station – For a charging station with which you can keep your devices out of sight, try converting a bread box by drilling a hole in the back for the power strip cord and use a divider with slits for the cords. See more details at lifehacker.com.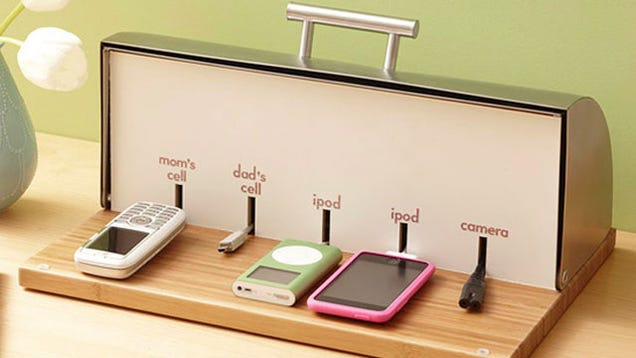 Effortless Organizers
Cordies Desktop Cable Managers – Cordies are compact organizers that keep cables on your table weighted down with no mess.
Cable Turtles – Designed to accommodate and conceal excess cord, the flexible rubber shell opens to load the cord and returns to its original shape to hold the cord in place. Choose between large and small sizes and pick your favorite colors from The Container Store.
Bedford Smart Technology Recharging Station – Like the DIY charging station from Lowe's, this organizer has places for cords and mail, but it comes fully assembled and ready to use.
Bamboo Multi-Charging Station – With room for a laptop, tablet, and up to 3 devices, this sturdy stand holds and hides unsightly cords. It also comes with a magnetic base that flips open to reveal a hidden storage compartment for wires that otherwise clutter up your desk space.
It takes small steps to make important changes, and building organizational skills is no different. Straighten out your electric cords and cables for a start.
Let us know if you experience less stress when you don't have to deal with any cable mess by leaving a comment below!